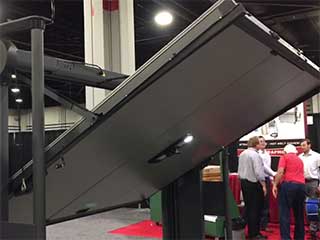 Automatic garage doors as we know them today didn't just spring up out of nowhere. No, like every other wonderfully helpful appliance in our lives, they have progressed over time, changing through a string of minor yet significant ways until eventually, as technology allowed them to grow into something beautifully functional and convenient, they slowly but surely became the marvels that we are so used to seeing today. So if you have ever wondered where it all started, keep reading to find out a little bit more about the humble beginnings of these systems, and the road of ingenuity which brought them to our homes.
Before There Were Even Cars To Park
Once upon a time, just before the industrial revolution in England, London's wealthiest had the pleasure of keeping their feet out of the dirty, damp streets by traveling between the emerging city's locations in a horse-drawn carriage. Though, as people from all walks of life are never without their problems, these carriages needed protection from the miserable weather, which tarnished them easily. Thus gatehouses were created. Safe, public spots where carriages could be stored safely. And so the garage door was born.
A Safe Place For The Public
These gatehouses, oddly enough, were initially not kept near the homes of the carriage owners who used them. For the most part, they were placed and used publically near places of interest, so that carriage owners could get around once parking their vehicles, and slowly but surely they became a part of plenty of homes and estates. With their torsion coil extension springs, they were easy to operate but not yet electronic, those wouldn't be seen for nearly a century on the other side of the world.
Coming to America
In 1921, an inventive chap named C G Johnson discovered two things: that he was fed up with opening his garage door manually, and that with the power of electricity, he would never have to do it again, and neither would the rest of the world. He developed the first ever automated system, and his company, the Overhead Door Company became an instant hit. In his wake, many more companies followed, each making remarkable changes and improvements over the years.
The Contemporary Science
Influenced by technological advancements around the world, from magnetism and infrared to Wi-Fi and smart-technology, the doors and openers that we are accustomed to today slowly but surely evolved into what they are. Now we have a choice between an almost endless range of doors. Yet we have become so used to them that sometimes it is difficult to imagine life without a garage door that opens for you like you were royalty. If you don't have such a mechanism, give our team at Garage Door Repair Maple Valley a call and our experts will help you find the perfect system for your home.