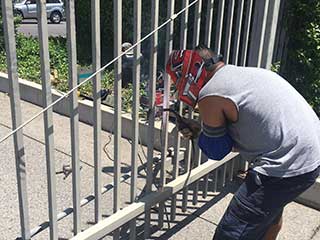 We'll Handle All Your Opener's Needs
Whether you need a new opener installed for your gate's system, or the one you have is acting up, we can assist you! We can check the photo-eye sensors to determine if they're in need of repairs, as well as repair or replace the opener sensors in general as needed. Our experts have years of work in the field under their belts and will be able to get to the root of any issue and find the best solution for it right away. Trying to handle these problems yourself can be risky, both for how well your gate will function and for your wellbeing! That's why it's best to let a professional handle everything for you.
We Work Commercially
If the gate at your place of work is holding things up and causing a lot of frustration, don't worry! We're here to take care of it for you. Aside from repairing the opener, we can also take care of the wielding on the hinges if they've started to degrade or rust and are slowing things down. Sometimes a bump from a car or otherwise can knock the gate out of alignment so it won't close properly, but we'll get it back in place before you know it! Should your intercom not be working well, such as cutting out in the middle of communicating, we can tend to that too.
Installation Is No Problem
We'd be happy to put in a brand-new gate for you or replace what you have with something fresh! Whatever type you're interested in, you can count on us to be able to install it easily and before you know it! Wrought iron gates are perfect for that sophisticated and classic look, or swing gates can be installed for something simpler and more straightforward. Whatever you decide, we'll take care of everything!
Take The First Step
Call Garage Door Repair Maple Valley today and get your gate working like new again!
Give our team a call if you need help with: